Are You...?
...looking for a simple, but meaningful ceremony?
...thinking of getting married in city hall, the town clerk's office,
or at your local courthouse by a judge or a justice of the peace?
...seeking an alternative to a civil wedding ceremony that is spiritual but not religious?
...planning to get married in the next few weeks
but are not sure where to go or who can marry you?
...simply looking to make your union legal?
...contemplating eloping?
Is Your...?
...ideal wedding just the two of you, or a few special guests?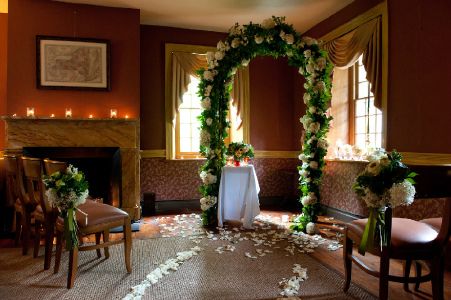 Choosing to marry is such a special decision. Whether you are choosing to marry in front of many guests, or wish for something smaller and more intimate, the size of your gathering has nothing to do with how special that moment can be.
For the couple desiring a small private ceremony, perhaps to be scheduled in the near future without the months of planning required by a larger celebration, I offer Short and Sweet and Sacred ceremonies as an alternative to the impersonal marriages offered at public buildings by public officials.
Although I specialize in highly customized wedding ceremonies, I understand that many couples may wish for something far less formal and customized, but no less elegant and sacred. After years of experience crafting meaningful ceremonies, I am able to offer you a beautiful ceremony that may be customized by the addition of your vows. I offer civil, secular, non-denominational, and spiritual versions from which to choose. You will be able to preview the ceremony prior to your wedding day. And if you're not sure what sort of a ceremony best represents the two of you – worry not! I will be happy to lead you through the process of choosing a ceremony that feels authentic to you both.
I offer Short and Sweet and Sacred ceremonies most weekdays and evenings, and on select weekends, and may be available with relatively short notice. My fees are based on how much time I anticipate spending with you, as well as the location of your ceremony and any customization you may ask me to do.
Weddings can be performed at my home in Rhinebeck, NY, either in my parlor in front of my fireplace or in my lush garden under my rose-covered arbor. Weddings can also be performed at several beautiful locations in the Rhinebeck area, or at many other beautiful locations throughout the Hudson Valley. I am also available to perform a simple ceremony at a location of your choice.
For those more informal unions, I invite you to contact me so that we can explore how to turn your special moment into an event you'll cherish, with a fee designed to feel comfortable.