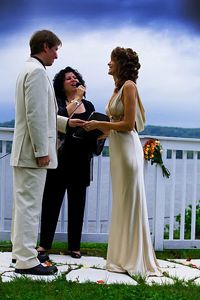 This is a joyous time. A love-filled time. A spirit-filled time. A sacred time. It is a time that is preparing you for the rest of your lives. Enjoy every moment of this unfolding process. This time is a cherished gift to you both.
Our First Meeting
Our first meeting will begin the creative process of crafting a ceremony that honors that which is uniquely you. I will be asking you to share with me the story of your love, your hopes, dreams, and visions for your future, and the rituals, traditions, and practices that are important to you. I will provide you with tools to assist you in co-creating your ceremony with me, including:
§ A customizable ceremony outline.
§ A written survey form that asks thought-provoking questions and reflections. These reflections will provide the framework for the crafting of your ceremony.
§ An anthology of poetry, prayers, and readings representing a wide diversity of backgrounds and practices. You may wish to include some of these selections in your ceremony, or you may wish to provide your own meaningful choices.
§ A collection of sample vows, which can be used as written, or mixed and matched, or used as an inspiration to write personal vows that are an expression of your love and commitment.
§ A pre-wedding checklist to assist you with the many details that are part of the wedding process.
Our Second Meeting
Once you've had time to reflect upon and respond to the information I've provided we will schedule our second meeting. During this meeting we will begin to create your actual ceremony, bringing it to life with the participants, rituals, readings, and vows you have chosen.
This is the fun part! It is the time when I use my experience to guide you in the creative process of crafting a ceremony that reflects your personalities, your traditions, and your love.
Our Third Meeting
Our third meeting will be used to review the first draft of your ceremony, and to confirm that your ceremony is exactly as you have envisioned it to be. This is a work in progress. Should any changes need to be made, I will encourage you to do so at this time.
The Written Ceremony
After our third meeting I will create the actual script of the ceremony. This becomes an important document. It represents weeks of reflection and conversation, and it will provide the words that will be used to sanctify and solemnize your life together.
I provide each couple with a beautifully bound copy of the ceremony, with the intention that it become a sacred reminder of the vows you have made. I suggest that you may wish to regularly revisit your ceremony. Many couples use the original ceremony as part of a yearly anniversary ritual, as a way of reaffirming and strengthening their commitment to one another.
The Rehearsal
Whether as a formal rehearsal involving the coordination of your entire wedding party, or as an informal run-through of the ceremony, I will meet with you at least one more time prior to your wedding day. At this time we will review the details of the ceremony and the roles and placement of each participant.
Your Wedding Day
On the day of your ceremony you can expect me to arrive approximately one hour before the ceremony is scheduled to begin. You will have access to me before that time should there be a need for any last minute changes.
When I arrive, I coordinate with the venue staff, the photography staff, and the musicians so that everyone involved is aware of the details and logistics of your ceremony, and the ways in which those details will affect their roles.
And then the moment you have been waiting a lifetime for begins! As your ceremony starts to unfold, you will have complete confidence that it is a ceremony that has been thoughtfully crafted to reflect the essential nature of the transformational event that is about to occur.
My commitment to you is that I will gently guide you and your participants throughout the ceremony process. All you will need to be concerned with is fully immersing yourselves in the magic that is meant to be yours.
Final Thoughts
From our first meeting through the actual ceremony, I have richly described a lengthy, creative, spiritual, and profoundly personal process. I am asking for a deep level of engagement from you, and I am offering to you the same.
Choosing a wedding officiant is a highly personal matter. How will you know that we are a good fit for one another? If…


the words you have just read touch something deep within you,

you see the ceremony you are about to co-create with me as being the most important part of your wedding day,

you welcome the opportunity to take time to reflect

upon this next chapter of your lives and your vision for the future,

you're excited by the prospect of creating a ceremony that is meant to be a foundation for the creation of your future,
then I know that we are right for each other, and that our hearts, and the hearts of your guests, will be permanently touched.

I bring to each ceremony a great love for each individual, a great reverence for the sacredness of what is being born, and a great joy at being asked to facilitate the profound transformation that occurs when two hearts are spiritually united as one.

If that is what you envision for yourselves, then I would be most pleased if you would contact me so that we can begin the process of creating the magic of your wedding day.